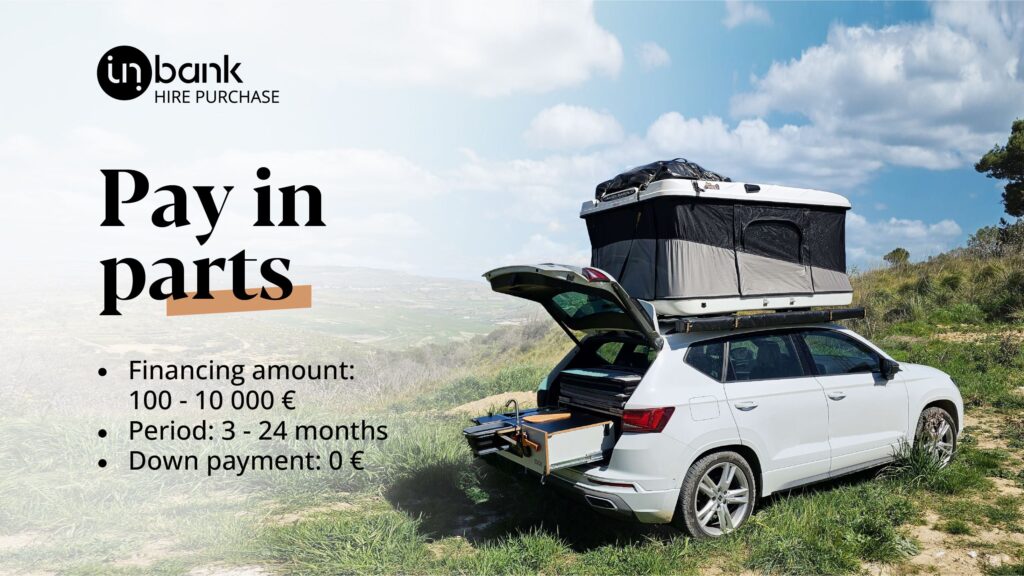 Inbank hire purchase allows you to turn a large one-time expenditure into smaller monthly expenses and pay for products and services in instalments. Take more time to pay and spread the expenses over up to 2 years. First payment a month later.
Advantages of Inbank hire purchase:
• Flexible solution for large expenses
• You choose the instalment amount
• You choose the instalment payment period
• You choose the payment date
• Response to an application within a minute
Financing terms:
• Financing amount: 100 – 10 000 €
• Period: 3 – 24 months
• Interest rate: 0%
• Down payment: 0 €
• Contract management fee: 0 €
• Contract fee: 0 €
The cost rate of the Inbank hire purchase is 0% per annum under the following sample conditions: price of the object of the contract when paid immediately (net price) 3000 euros, loan amount 3000 euros, down payment 0 euros, contract period 24 months, annual fixed interest rate 0% of the purchase amount, contract fee 0 euros, monthly management fee 0 euros. Monthly fee total 125 euros. The total repayable loan amount is 3000 euros. The financial service is provided by AS Inbank Finance. Before concluding the agreement, read the terms of the financial service and, if necessary, consult with a professional.
If you have any questions or would like to receive further information about InBank products, please reach out on.
+37166939000
[email protected]